Andanar: We at the Palace are victims, too
Intro
YES, the country's premier communication agency is fighting fake news, especially in this time COVID-19 pandemic, according to its chief, Secretary Martin Andanar.
But it has its own battle, too—defending its office and its prime client, the Office of the President, against wrong information peddled and posted on social media, especially on Facebook, supposedly by government critics and even pranksters.
They're doing it, according to Andanar in an interview, "to mitigate and avoid unnecessary, divisive, and damaging consequences" that false information creates in our society.
At one point, Andanar had to deal with his own staff who posted erroneous reports that did not pass through the usual PCOO gatekeeping process, which prompted government critics to call the Palace the No. 1 source of fake news.
"We, at the Presidential Communications Operations Office, have been at the forefront of dismissing disinformation and misinformation, especially within social media," added Andanar, a former broadcast journalist.
Among public figures, President Duterte has been the top favorite of news fakers, he said, probably next to celebrities including Sen. Cynthia Villar.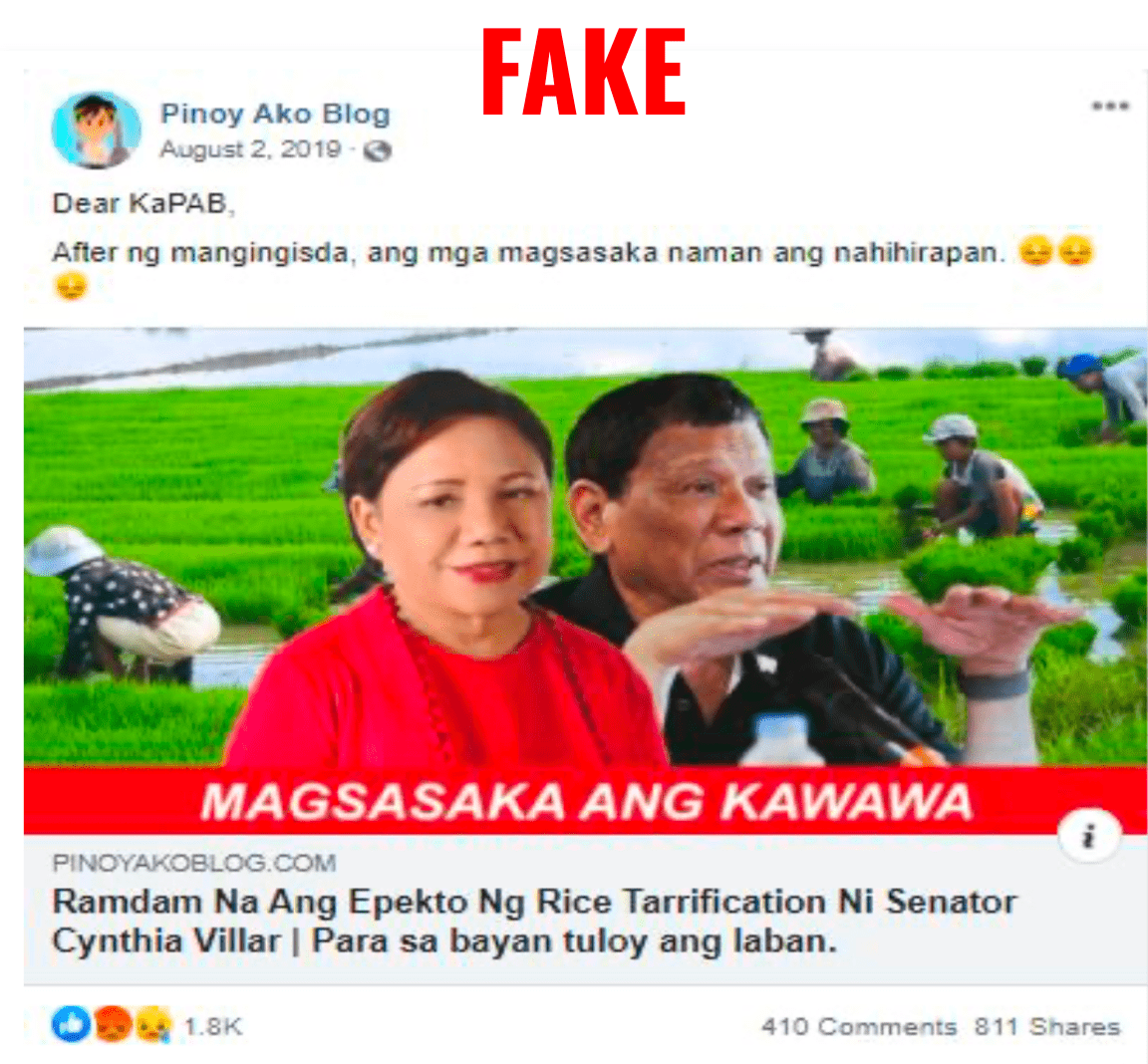 "Our mandate isn't solely to support and to amplify the Duterte administration's policies, programs, and actions, but also to support, engage, and inform the citizenry in order to promote a more constructive and truthful discussion, for our collective development and progress," he said.
'Fake and foul'
Andanar recalled at least four major fake reports that affected the Office of the President. One was when the President was reported to have snuck into a hospital in Singapore for an unknown ailment last August. It was "fake and foul," according to Presidential Legal Counsel Salvador Panelo.
The other two were when the President allegedly died in February 2019, and his hospitalization in July 2018.
The last one, posted on Facebook, showing an alleged Bangkok Post article claiming the King of Thailand ordered President Rodrigo Duterte to behave during the 35th Summit of the Association of Southeast Asian Nations in November 2019. "It was untrue and unfounded," Andanar said. "I was there, and nothing close to that happened."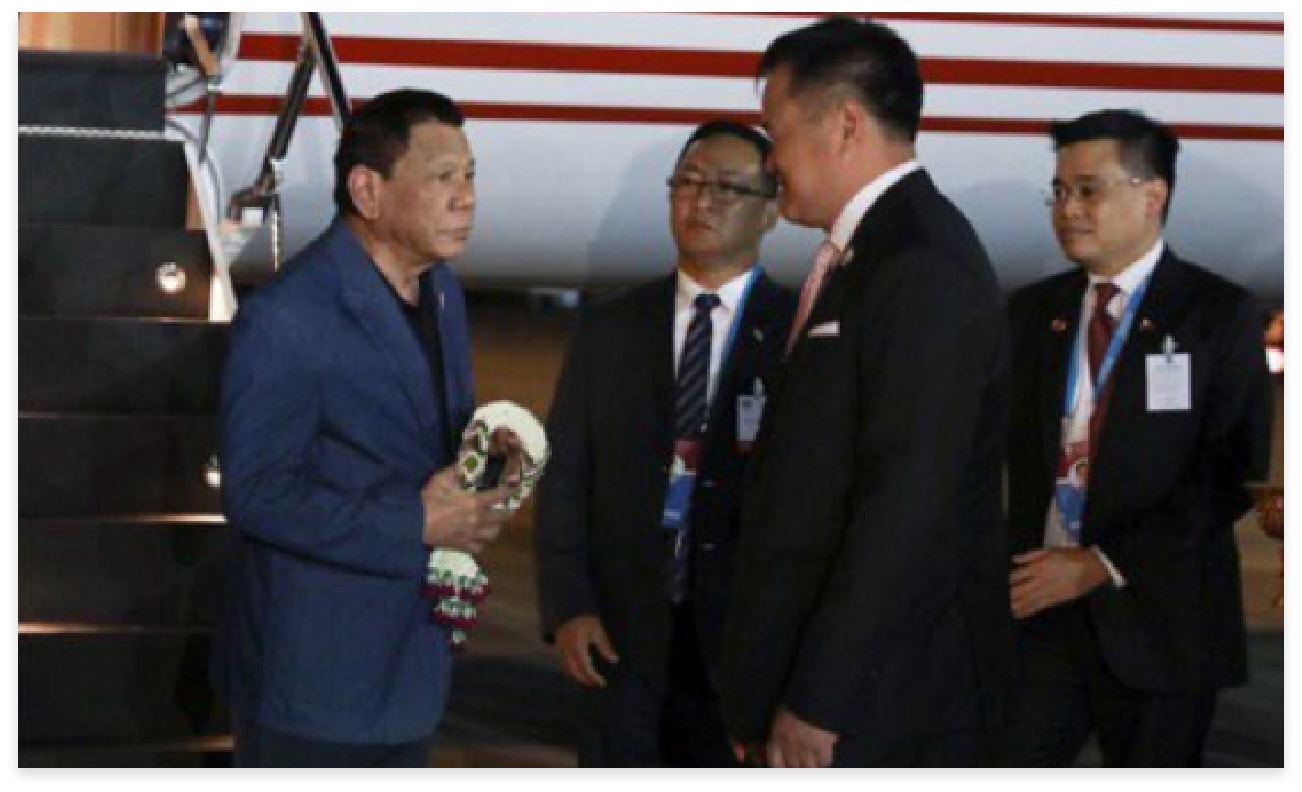 There were others on his list, but Andanar wouldn't want to put out everything in the open, except for some, he added, when his own media colleagues committed mistakes, or when unscrupulous people would use the logos of other media institutions in posting fake news, ranging from the President's health in July 2018, death in February 2019, and the ABS-CBN shutdown, to cryptocurrency.
One weekend in June 2020, Andanar had to come out of his family time to deny allegations that the PCOO had anything to do with the rise of fake Facebook accounts disguised as verified accounts of actual individuals.
Because he was a former TV anchor and producer, he put up TV show "Laging Handa" aired live on major television stations to provide the public accurate updates about how the government agencies were dealing with the pandemic as well as to answer public inquiries.
In his own words, Andanar summarized the PCOO's own initiatives to battle disinformation amid the COVID pandemic since March, when the government imposed strict community quarantine measures.
Question

:


how is the PCOO responding to fake news amid the COVID-19 pandemic?

Andanar: We utilize the strong foundations of our different communications platforms, such as social media, television, and radio, to promote truthful information and dismiss false information amid the COVID-19 pandemic. We also continue to innovate in order to continue fulfilling our mandate to the Filipino people.

By adapting and innovating we continue to dismiss false information even under the threat of COVID-19, we were able to carry on the operation of our vital mechanisms. These include the Dismiss Disinformation Campaign, Youth for Truth Program, and Laging Handa Operations, among others.
There have been instances wherein PCOO has disseminated false information. Are these deliberate?
There have been a number of instances in the past that cross-posting of contents from other agencies, which weren't initiated by the PCOO, bypassed our traditional processes and were not cleared by our official social media administrators. Such were acted upon stringently and immediately by the PCOO.
What are the PCOO programs in countering supposedly fake news against President Duterte and his administration?
The PCOO has vital mechanisms in countering the spread of false information both in online and in traditional media. Our Dismiss Disinformation Campaign, Youth for Truth Program, and Laging Handa Operations, among others, continue to be operational to address this relevant matter.
The Dismiss Disinformation Campaign was launched primarily to combat fake news and the spread of false and misleading information.
This campaign encourages a culture of responsibility and discernment among the public in support of the existing laws against disinformation. This particular campaign is very vital given the current situation of COVID-19 pandemic, where a wrong or misleading information could literally lead to harm.
Our prime objective for our Youth for Truth Program is to shed light upon pressing issues in our country, particularly on the fake and misleading information that are relevant to the youth and to our nation's future. This is done by ensuring that most, if not every Filipino youth, has access to workshops on media literacy and good governance among others.
We also undertake and engage the youth through our Youth for Truth podcasts, web series #kayouth on ECQ, and Youth for Truth online dialogues, among others, to connect with, educate, and inspire young Filipinos, especially during the pandemic.
On the other hand, through our Laging Handa Operations and Program, we maximize the use of TV and radio broadcasting, print and digital media, and on-ground communication, among others, to arm the public with necessary information to help protect them from the COVID-19 and update them on the developments, government's responses, and efforts, related to the pandemic.
Our Laging Handa Operations and Program doesn't only assure the public that the government is on top of the COVID-19 situation and disseminate and reiterate to them precautionary measures, it also dispels false information and advocate for preparedness and vigilance while fostering solidarity through the participatory governance of every Filipino.
These are just among the efficient and effective mechanisms that the PCOO has.
Does the PCOO employ social media trolls in order to promote the Duterte administration's policies and undermine the opposition?
The PCOO doesn't employ social media trolls. It has always been clear that the Duterte administration has no policy of spreading disinformation to the public. Such will never be condoned by this administration as a tool meant to discredit its critics in order to consolidate power, as how our critics have gravely alleged us of doing. Disinformation and misinformation are what we, at the PCOO, are actively advocating against.
The PCOO maintains that these are unfounded claims. As a matter of fact, we are one of the strong proponents in undermining the spread of false information online, especially now during the COVID-19 pandemic.