PNP: Online libel, scam top 2020 cybercrime list
Intro
THINK twice before posting anything that would rob people of their money and damage their reputation. The police would run after you.
From January to August 2020, the Philippine National Police handled 5,262 cybercrime complaints filed by various individuals seeking legal redress against those they called news fakers, identity thieves, cyber defamers and liars.
On average, the police got 658 complaints per month, or 22 cases daily. That's about only 73 cases less than the cybercrime cases recorded for the entire 2019.
But of the 5,262 cases, online scam cases—complaints filed by people against those who duped them of their money—topped the list of the most common cybercrime cases reported to the PNP, with 1,758 cases or 33 percent of all cybercrime cases from January to August 2020. That's a 52-percent increase from the 1,153 online scam cases reported for full year 2019.
Cases of online libel—or of people whose posts on social media appeared to besmirch another person's reputation—came next, with 1,467 cases or 28 percent of all cybercrime cases during the same seven-month period.
That's 163 cases more than online libel cases reported for full year 2019.
Computer-identity theft listed as third with 728 cases, a 41- percent increase from 515 cases in January to December 2019.
The top three types of cybercrime cases from January to August 2020—online scam, online libel, and computer-related identity theft—amounted to 3,953 cases, which make up 75 percent of all reported cases during the period.
The remaining 25 percent, or 1,309 cases, are 22 other types of cybercrime, one of which is fake/false information, with 13 reported cases to the PNP. It was only in 2020 when the PNP received reports of fake/false Information.
According to P/Major Joseph Arvin Leones Villaran of the PNP Anti-Cybercrime Group, posting fake news or false information is penalized under Republic Act 11469 or the "Bayanihan Act". Prior to the implementation of the law, similar cases were reported as Online Libel.
Cybercrimes rising
Cybercrime cases reported to the PNP double each year, on average, in the past six years since 2013. From 149 cybercrime cases in 2013, this ballooned to 5,335 cases in 2019.
On average, the PNP recorded 864 additional cases each year since 2013.
https://infogram.com/part-3-1h0r6rpl1nqew2e
"As a field officer, we attribute the increase in recorded cybercrime cases [to] the paradigm shift from the traditional money transaction, to online money transaction and money remittances. [In] addition, traditional shopping also shifted to online shopping," Villaran said.
In 2013, 22 online libel cases reached the PNP headquarters. Six years later, the PNP received 1,304 online libel cases in 2019. Online scam soared as well, from 42 cases in 2013 to 1,153 cases in 2019.
PNP recorded the highest increase in reported cybercrime cases in 2018 with 4,104 cases from 2,288 cases in 2017.
Overall cybercrime cases
In total, the PNP recorded 20,713 cybercrime cases from January 2013 to August 2020. Of this number, 26.1 percent or 5,401 are online libel cases. The second most common cybercrime reported was online scam, with 5,331 cases or 25.7 percent of all cybercrimes reported to the PNP during the same period.
Fakers haled into court
More than half of all cybercrime complaints in 2020 (Jan-Aug) were cleared. This is equivalent to 1,541 of the 2,918 complaints or a Case Clearance Rate of 52.81 percent.
According to PNP, a case is considered cleared when "a suspect or suspects are identified and cases have been filed while follow-up operations for their arrest are underway."
Meanwhile, almost half or 1,315 out of 2,918 cybercrime complaints were solved from January to August 2020. PNP considers a case solved when the offender has been identified, taken into custody, and charged before the prosecutor's office or court of appropriate jurisdiction.
PNP has launched several campaigns to address the increase in reported cybercrimes in the Philippines. Among these are information drives in various communities and improving cyber competency of PNP detectives. To those who will try to commit cybercrimes, Villaran has only one message: "We will never stop tracking you."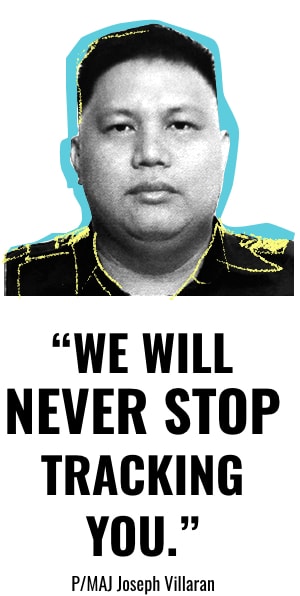 Are you with us so far? Let's check.
Cybercrime cases are rising in the last seven years.